When you belong to the Y, you belong to a team.
A team remains strong, even when not physically together, and the Y remains dedicated to supporting our members and our community.  Our staff is working hard to create virtual resources for our members to help support your physical and mental health while the Hunterdon County YMCA is closed.  We will continue to add resources, so check back for updates! Please see below for facility updates.
May 6, 2020 Update
We hope that you and your loved ones are staying healthy. The Y leadership team is patiently and diligently working remotely to safely prepare for the day we are permitted by the Office of the Governor to open our doors and begin welcoming you back. In addition, our maintenance and operations teams are taking initial steps to prepare our buildings for reopening. We look forward to that day and when it comes, we'll be ready. Here are some of the steps we are taking and what you can expect when we are able to reopen:
Phased reopening: We plan to open in phases, including the hours of operation, and service/programs available for usage. We will take it on a week-by-week basis, and slowly expand our offerings to ensure safety precautions are being met. In addition, we will continue to offer virtual options during our early phases.
Physical distancing and capacity measures: Monitoring the number of individuals in the building at once is paramount to succeed in social distancing. Each room will have specific capacity limits as we implement physical distancing guidelines from health authorities, such as the CDC and health department. There will be floor markings and additional signage for guidance.
Cleanliness and sanitization: We're planning for increased cleaning and disinfection by our professional cleaning company and Y staff. We will also require members to do their part.
Screening and prevention support: We'll follow guidance from the government and the medical community regarding enhanced screening procedures and prevention measures, including those related to personal protective equipment (PPE), such as face coverings.
Staff training:We're further emphasizing our strong culture of health and safety amongst our staff members, and will continue to provide new training and reinforcement as we get closer to reopening.
In the meantime, our staff teams continue working remotely to provide virtual offerings while continuing to support and strengthen our community.
I can't wait to welcome you back when our doors reopen.  Our spaces will be different (social distancing), our greetings will be different (no hugs or handshakes for a while) but the heartfelt warmth of the Y will shine through.
I am looking forward to an exact date when I can say…
See you at the Y,
Bruce B. Black
President/CEO
March 18, 2020
We know you still have a lot of questions. We do, too. All of us at the Y are grateful for the outpouring of support many of you have expressed. We are committed to doing everything possible to secure the future of the YMCA, and all its services, as these uncertain times continue.
As a community benefit non-profit, membership dues are the foundation of our work, and closure for any length of time represents a significant threat to our non-profit organization. We cannot express the potentially devastating impact extensive cancellations could have. We know the Y is an extension of your family and we remain honored and committed to serving you, just as we have served for the last 117 years.
Here are some things we can share with you:
Those currently enrolled in our Winter Session of classes or Stingrays Swim Academy: we will do our best to schedule make up classes for when we re-open.  If we are unable to schedule a makeup class  you'll have two choices: you can consider your program fees a donation to the Y's ongoing mission to serve community or take a credit toward future programming in the 2020 calendar year. For questions about programs, please contact Kristin Heimall, Senior Program Director at kheimall@hcymca.org.
All members also have a choice. You can consider your membership dues an important tax-deductible donation to the Y. If this is your choice – thank you. No actions are necessary. If you would like to do something different, such as membership freeze, we are able to assist you. If you need assistance, please email Justin Grand, Sr. Director of Membership Engagement at jgrand@hcymca.org.
For families enrolled in our Before and After School Programs, please click here for information. For questions, please contact Wendy Crocetti, School Age Child Care Director, wcrocetti@hcymca.org
We are so much more than a gym for so many, and keeping up with routines, even modified ones, is important for everyone's health. We are happy to be able to offer our members Virtual Membership, which includes free streaming group fitness classes and more. Click here to get started.
Please monitor our website www.hcymca.org for important messages and updates. We will continue to share alternative ways in which you can still participate and support the community.Click here to learn more about ways you can help the community.
We miss you and hope to see you soon. However, with Governor Murphy's orders on closure of all non-essential businesses, schools, and social distancing, we must now follow his lead. His orders did not specify an end date, so we will remain closed until we receive further instructions from the Office of the Governor.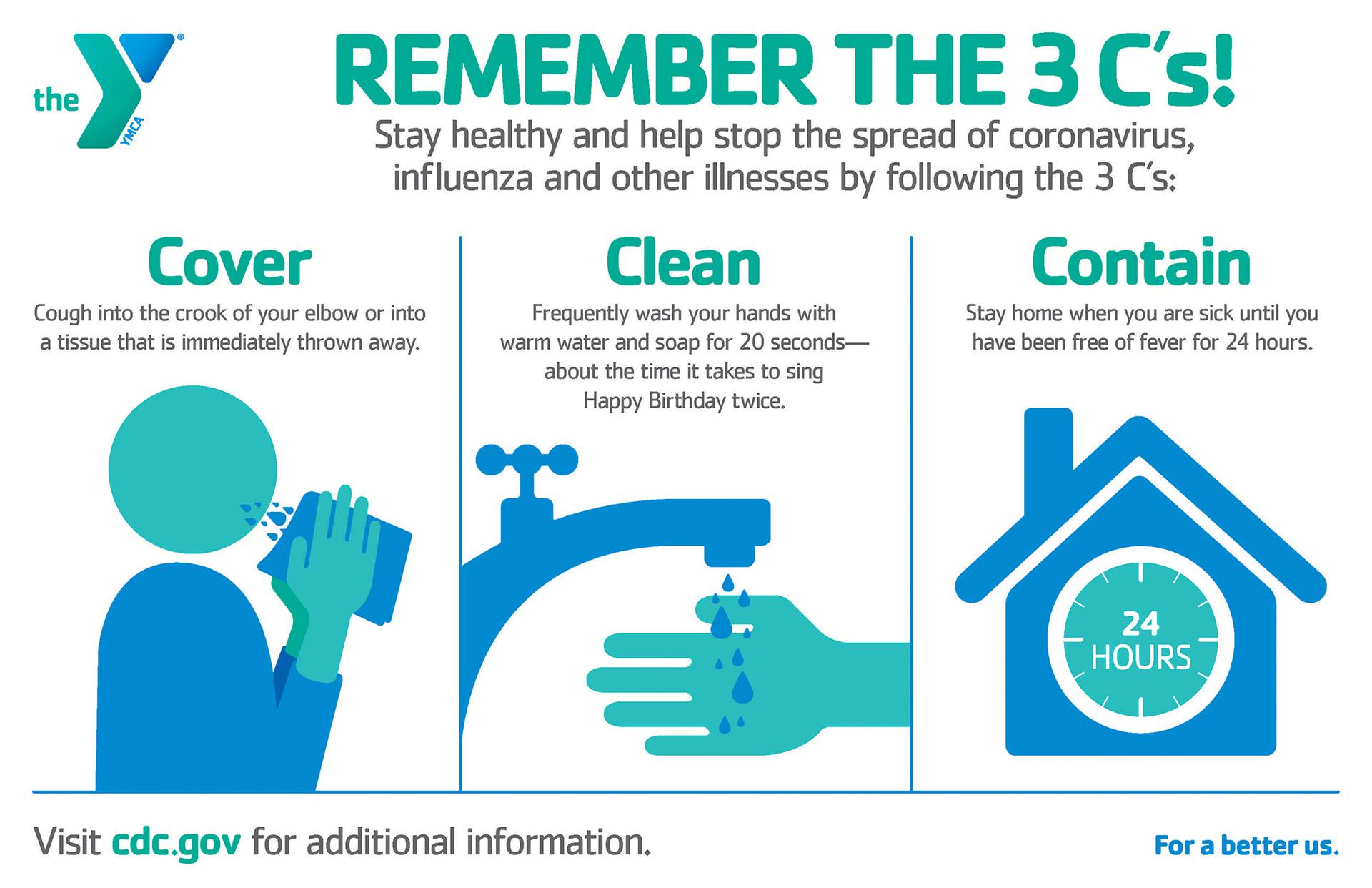 More Information
For further information, please use the following links:
·      Centers for Disease Control and Prevention
·      Hunterdon County Department of Health
Hunterdon Healthcare has created a hotline for the community to call in with questions regarding Coronavirus. The Hunterdon Healthcare COVID Hotline can be reached by calling 908-788-6440. The hotline will be open seven days a week, 8:00 a.m. – 8:00 p.m.