For your safety and to meet capacity guidelines, we offer Full Facility Member reservations for Swimming, Group Fitness, and Open Gym/Basketball.
Click buttons below to learn more and to get started.
 Our Branches Are Open
In accordance with Governor Murphy's executive order that health and wellness centers can open at 35% capacity we are excited to welcome you back inside our branches.
To prepare for your visit, please click here to sign an updated waiver, if you have not already done so, and review our safety protocols below  including wellness screening/temperature check at each visit and the requirement of face coverings.
STAY INFORMED
We will continue to keep you updated regarding the status of our facilities and programming via our website, email, and social media. Thank you for your continued patience, membership, and support of our Y. See the menu below to access programs that are currently running. We're so happy to welcome you back!
Building Hours:
Deer Path Branch
Monday –  Friday: 6:00 am – 9:00 pm
Saturday & Sunday: 7:00 am – 7:00 pm
Round Valley Branch
Monday –  Friday: 6:00 am – 8:00 pm
Saturday & Sunday: 7:00 am – 12:00 pm
INDOOR GROUP FITNESS CLASSES
Member favorites returning to the schedule including Strength Train and Active plus enhanced options for active older adults. In addition, Indoor Cycling offered at the Round Valley Branch. Due to capacity restrictions, reservations will be required and class size will be limited. Reservations open one-week prior to each class. Click here to learn more.
RESERVATION SYSTEM & APP UPDATES
Members now have the ability to register for group fitness classes and swimming up until 1 hours prior to the scheduled class or swim time. We greatly appreciate members cooperation utilizing our reservation system and are pleased to be able to offer greater flexibility. Click here to see schedules and make reservations.
Our mobile app is also updated and includes group fitness and swimming schedules. Additionally, from the app you can register for youth programs, click on the link for our reservation system, and load your membership barcode so you utilize touchless scan in with your phone. Learn more about our app and download from your phone's app store by searching Daxko.
MEMBERS ON FREEZE
It is important to us that you were made aware of four prior attempts to email you on August 28, September 11, September 18, and September 28. If  you did not complete the questionnaire that was included in those emails,  your membership will be reinstated on October 1 if you have a draft of the 1st or on October 15 if you have a draft date of the 15th. Please check your spam/junk email folders for HCY communications/correspondence.
NOT YET A MEMBER?
If you are not currently a Y member, click here to learn about the many benefits on membership and join online. Or use the form below to schedule a visit.
Your Safety Is Our Top Priority
Please be assured that your safety – and the safety of all our members, program participants, staff and volunteers – is our number one priority. We are following guidelines from health experts and local officials to ensure that our facilities meet the highest standards for hygiene and safety, and we have modified our policies and programs to facilitate safe physical/social distancing practices. A recent article highlights the safety of returning to the gym. In addition, the Mayo Clinic provides tips for visiting fitness facilities – click here.
Tips for Wearing Masks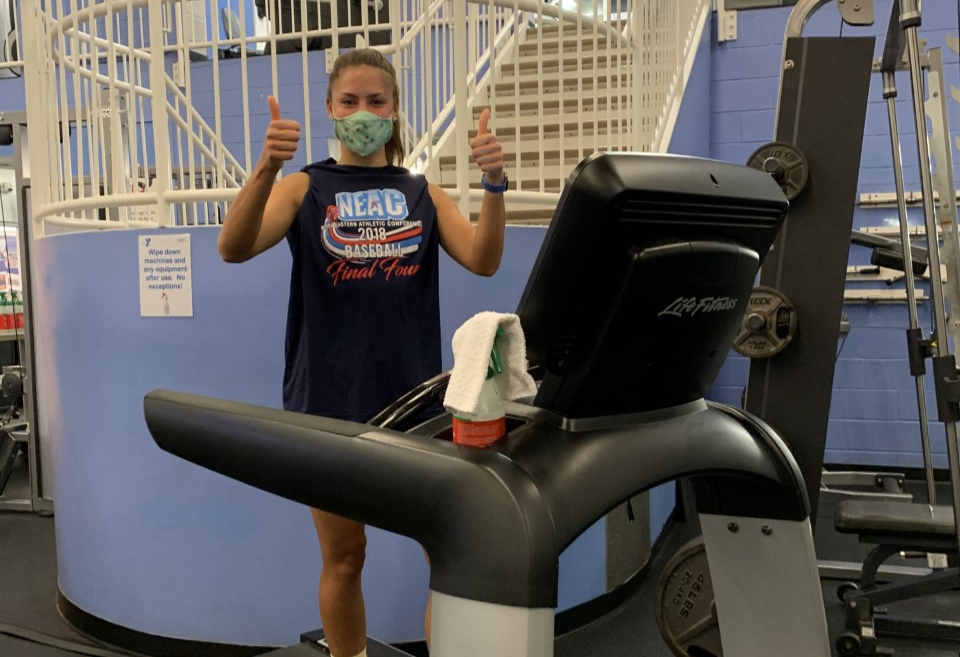 We get it. Wearing a mask isn't the most enjoyable thing to be doing right now. However, it is the safest, and at the Y our members' health and safety are our top priority. So how can you be more comfortable while exercising in a mask? Our friends at the YMCA of Greater Brandywine have put together four helpful tips – click here.
For more useful tips, click here.
The American Council on Exercise (ACE) has some additional guidance for exercising with a mask:
Make sure your mask is big enough to cover your nose and face for proper protection.
The mask should feel comfortable and snug around your cheeks and nose.
Try not to fidget with the mask while you are working out.
If the mask restricts your breathing prior to exercise, it will not be good to wear during exercise.
The advantage of a cloth mask is that it can be washed. Exercise enthusiasts who exercise regularly are encouraged to have a few masks so there is a clean, dry mask ready for each workout. Any laundry detergent will be fine for washing cloth face masks.
If you tend to sweat a lot during your workout, perhaps bring a second mask with you and replace when it becomes damp. It is best to replace a damp mask (from workout sweat or outdoor humidity).
We look forward to welcoming you. We are committed to providing a safe environment for all members and staff.  Please familiarize yourself with our policies and procedures for participating in programs at the Y:
Prior to attending for the first time, you will need to e-sign an updated Facility Usage Agreement waiver. Click here to sign (enter your membership barcode number and last name to get started). This only needs to be completed once, and only one individual within each Couple or Family membership needs to sign.
We highly recommend taking your/your child's temperature at home prior to visiting the Y. If registering greater than 100.4 degrees, please stay home for the safety of all.
Face coverings are required upon arrival at the Y, through the health screening process and in the buildings. Please see specific program area for additional requirements.
For the safety of all, staff and members are required to have a daily Wellness Screening prior to entering the Y facility or participating in programs. The Wellness Screening is designed to make sure that all members and staff are deemed healthy by taking their temperature with a touchless thermometer and asking four wellness screening questions.
A failed wellness screening result when: Temperature is greater than 100.4 degrees, or a "YES" answer to any of the four wellness screening questions. Those with a failed wellness screening will be denied entrance and will receive information about options for when they can safely return to the Y.
Wellness Screening Questions